About  BUSINESS PROCESS PACKAGE
By default, Bitrix24 has dozens of actions (Activities) for creating business processes. But this is not enough, and companies often need to create their own activities. We have compiled the most common user actions for Bitrix24 business processes into one application. Just install this application and expand the capacity of a business process designer. Access to all functions and data within the app is granted to users with Administrator rights in Bitrix24.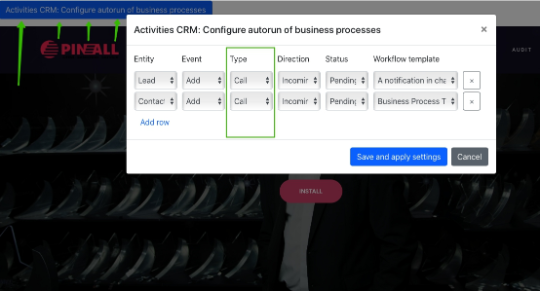 Activities
WHAT DOES THE BUSINESS PROCESS PACKAGE INCLUDE?
NEED SUPPORT?
If you encounter a problem with the BUSINESS PROCESS PACKAGE application, or you have any suggestion for improvement, create a topic on our forum. If you aren't already registered on our website, you'll be asked to sign up.

Note! Activities work only at portals that support business processes ("CRM +", Standart, "Professional").

For our customers who renew their Bitrix24 license through Pinall company for a period of 1 year (with any tariff plan that includes business processes: «CRM +», «Standart», «Professional»), we provide BUSINESS PROCESS PACKAGE application activation free of charge for the entire license renewal period! If your license expires in 3 months or less, and you renew for the next year in Pinall, then we provide you with the application for 1 year and 3 months to use free of charge.

If you feel this application, but you have already renewed your license for Bitrix24 in another company or using a different tariff plan, write to us by e-mail: order@pinall.org. We will contact you to discuss options for how to get the BUSINESS PROCESS PACKAGE application.

INSTALLATION FROM BITRIX24
1) To install the application, go to the "Applications" section of your Bitrix24.

2) In the search line, enter Pinall and from the applications found, select the one required for installation to your portal (the "View" button).

3) In the pop-up window, press the "Install" button and tick the boxes "I have read and agree with the license agreements" and "I have read and agree with the confidentiality policy".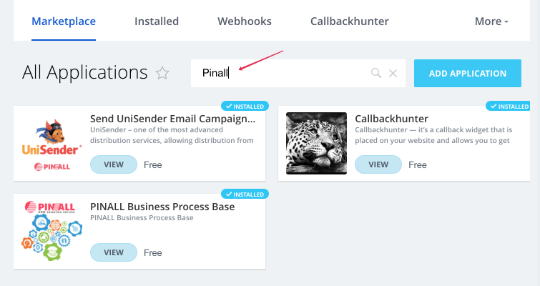 If you want the Pinall analyst to contact you and tell you how this application can be applied specifically in your business, send us an application.
Audit
Get a free audit of your Bitrix24
Still have questions about using BUSINESS PROCESS PACKAGE app? Get a free audit of your Bitrix24 portal. We will hold an individual hourly online meeting with you, at which we will show how to enhance your Bitrix24 portal and tell you how to use our application.
YOUR SUGGESTIONS
WHAT ACTIVITIES DO YOU WANT TO SEE IN THE PACKAGE?
Didn't find the activity you need? Write to us and we will add it to our package.